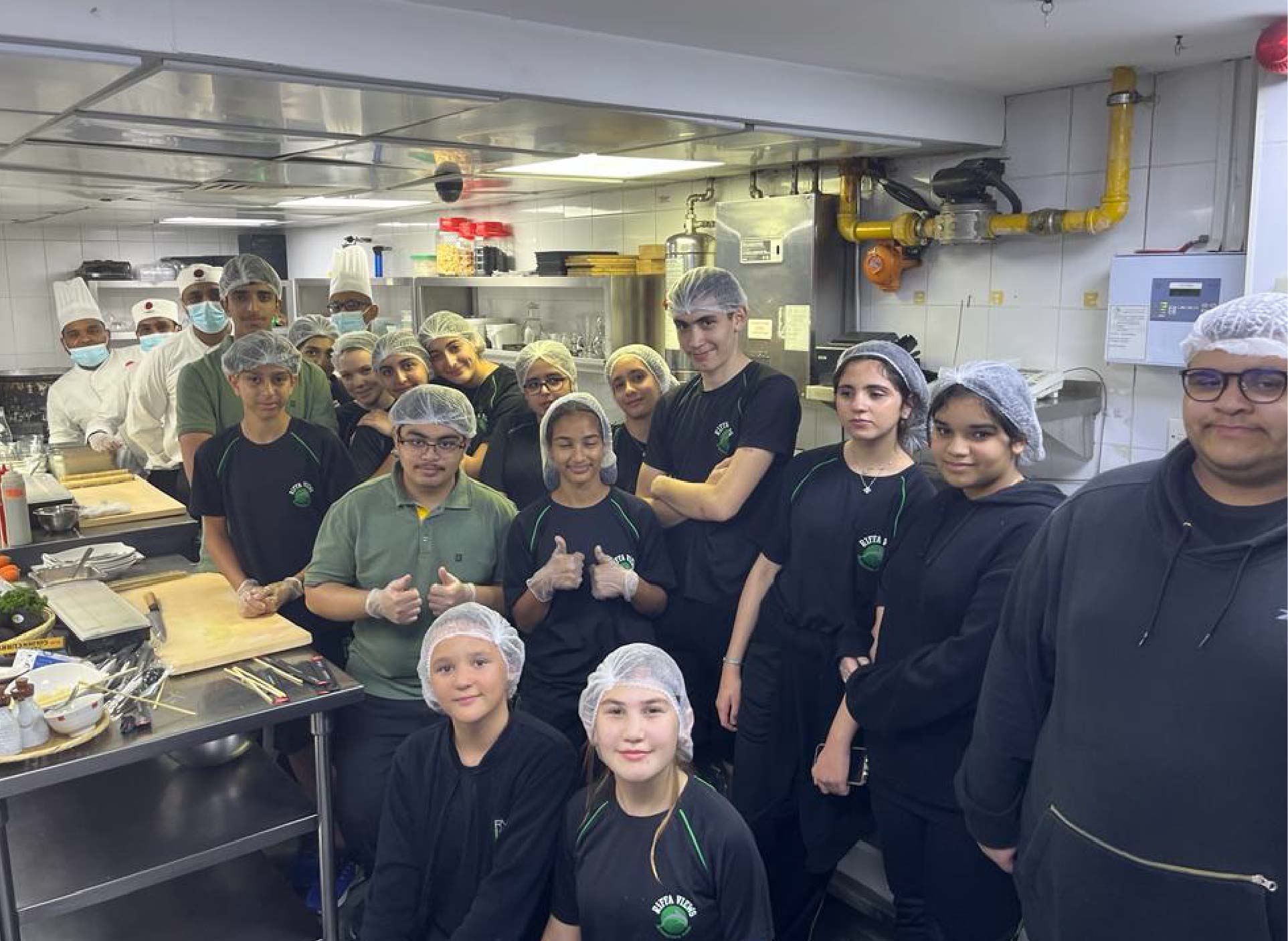 By Deena Alreefy
Marketing & Community Relations Liaison
Published: 2023-03-29 07:14:19
One of the greatest pleasures of being an International School is exposure to a wide range of cultures. And what is the best way to experience a culture? You guessed it, FOOD! An iron pan full of Paella, for example, contains more than just rice, mussels, shrimp, and sausage. Between the saffron and paprika that coats everything lies a culture, values, traditions.
RVIS conducted a Culinary Arts Ignite Seminar twice this year and it was a huge hit! Through the course of 10 weeks, a group of secondary students (grades 7-12) went on a culinary tour where they visited various restaurants such as Maki where they sharpened their sushi making skills, and the Tea Club where they teased their senses with Bahraini herbs and spices. Students also attended a few lectures on the science of cooking, learned the basics of chemical reactions in the kitchen, and studied the fundamentals of nutrition.
Students were inspired by a real-life success story of a Bahraini banker who decided to say goodbye to excel sheets and numbers and follow his childhood dream of becoming a chef! Not only did he turn into Chef Fayadh Al Doseri, he went the extra mile of becoming a restaurant owner with a number of branches across the Kingdom. Additionally, students got the chance to meet with the Gulf Culinary Institute and learn everything they need to know about pursuing a career in the Culinary field.
The most enjoyable part of the seminar however was the Cook-Off Challenges! Students participated in several cooking challenges where they were placed in groups and given a specific key ingredient to showcase, they were sometimes asked to make a main course and other times dessert, they had access to the oven one day and not the other. The challenge is where students truly dazzled us with their creativity. It was a great opportunity for each one of them to showcase their ability to be a productive member of a team, demonstrate their culinary knowledge, express a reflection of their culture, and illustrate art on a plate.