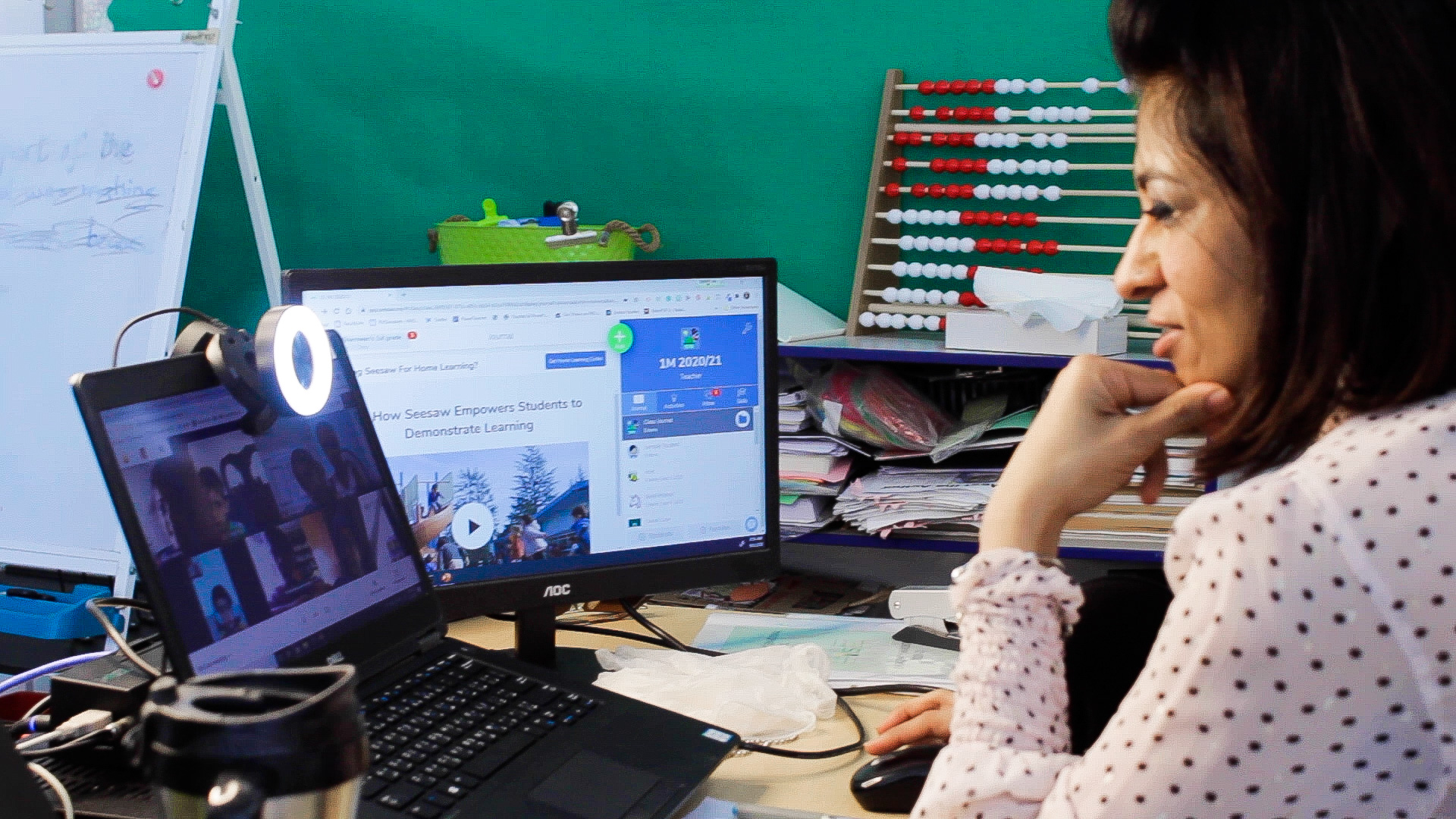 Teaching Practice Gain Global Recognition at Riffa Views International School
By Ken Davis
Director of Marketing and Admissions
Published: 2020-11-25 04:56:06
With the onset of the global pandemic, the world of education had to quickly adapt to a virtual environment. Schools like Riffa Views International School (RVIS), who already utilized educational applications like Seesaw and Google Suites, had a unique advantage in that students were already familiar with the platforms and many of the current teaching practices could easily be adapted to online learning.
Ms. Sharmeen Moosa, a grade one teacher at RVIS, seamlessly transitioned to online learning with the Seesaw application and transformed her physical classroom into an engaging virtual learning hub. Her students were able to complete their work in a variety of ways from recording short videos to taking pictures and uploading their written work. A grade one parent from last year stated, "my daughter loved virtual school, which I attribute to Ms. Moosa and Seesaw. Her assignments were engaging and allowed her to be creative with her learning, while increasing her confidence as a student. The best part being, she was almost completely independent."

Ms. Moosa also saw an opportunity to further develop her skills in Seesaw and became a Seesaw Ambassador in the spring of 2020. "Having received this advanced training allowed me to follow my creative passion, making engaging digital teaching materials on Seesaw that were not only user friendly for my students, but also for the parents" commented Ms. Moosa.
As an educator, Ms. Moosa wanted to share her learning and started conducting regular training sessions for teachers at RVIS to help boost student engagement and parent communication. She also posted lesson ideas through her social media accounts to help other educators teaching virtually. Her lessons and success grew to the point where she caught the attention of The New York Times, a major news agency in the United States and was asked to be interviewed. Ms. Moosa expressed her enthusiasm by stating, "I was thrilled to be recognized by such a large media organization for my work. It is not everyday you get recognized by the New York Times!"
As a Seesaw Ambassador, Ms. Moosa engages in ongoing training throughout the year where she receives information about updates and new features. This knowledge continues to be shared with RVIS teachers and other educators around the world through regular educator training and social media posts.
The one recommendation with their first "Outstanding" Rating from the Bahrain Quality Assurance (BQA) in 2014 was to "Share your teaching practices with the wider community". RVIS has taken this mandate to heart and continues to share through their vast social media network and partnerships.