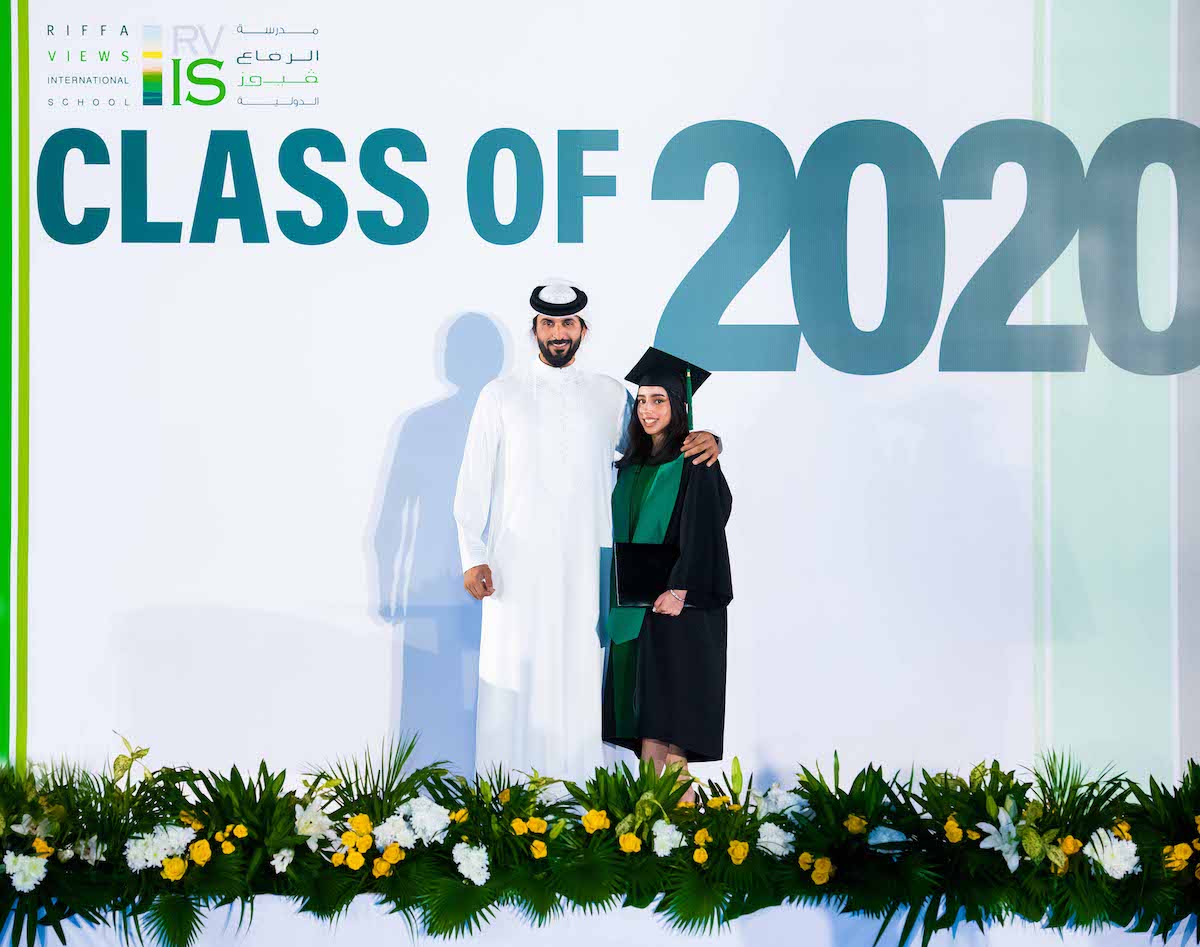 RVIS Celebrates its Fifth Graduation
By Ken Davis
Admissions/Marketing Director
Published: 2020-07-02 07:00:42
Unique times call for unique celebrations.
Under the Patronage of His Majesty King Hamad Bin Isa Al Khalifa, Riffa Views International School hosted its fifth graduation ceremony on Tuesday, June 30 at the Arcapita Gardens in Bahrain Bay. His Highness Shaikh Nasser Bin Hamad Al Khalifa represented His Majesty at the event, speaking to the graduates about the future and these unprecedented times.
The private event celebrated a major milestone for the twenty-eight graduates and their families; marking the end of high school and the beginning of the next chapter in their lives. The Bahraini colors proudly displayed over the bay was the perfect backdrop representing the school's close connection to the Kingdom of Bahrain and its culture. The ceremony opened with a welcome from the Head of School Mrs. Tara Waudby, in which she quoted the Holy Quran, "Indeed what is to come will be better for you than what has gone by," marking the significance of the moment and the potential that lays ahead.
The small ceremony reflected the personalization unique to RVIS, and families watched with pride from their individualized pods as their children took the stage one by one to receive their diplomas. Graduates who were out of the country attended via Zoom and celebrated from afar, receiving their diplomas virtually, and turning their tassels from right to left with their classmates.
Reflecting after the ceremony, Mrs. Danielle Pinkerton, the Secondary Principal stated, "Our students are very special to us and we admire their determination and flexibility during these difficult times. Our goal with this event was to do something unique for them and create a memory they will never forget."
The Class of 2020 is RVIS' fifth group of graduates, some having started in grade one with the founding of the school 12 years ago. Notably, many of the students in the class helped write the RVIS Mission: Ignite Passions, Personalize the Journey, and Impact through Action. The Class of 2020 represents a group of compassionate leaders who embody the values of RVIS. The graduates of 2020 are now ready for their next journey and will have a lasting impact on the school.